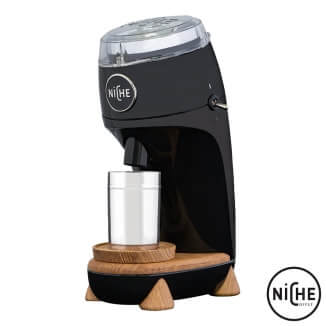 Niche Zero
- Niche Zero Coffee Grinder -
- Sale Price - $1299 -
- Melbourne Pick up -
- Free Shipping (Australia, Metro) -
sale
The Niche Zero is a new domestic coffee grinder that delivers exceptional grind quality and speed as well as neat and tidy dosing. Grind is fluffy and grind retention is low. This grinder has been designed for the most fastidious home barista.
Niche Zero Specifications:
Adjustment: Stepless

Burrs: 64 mm Conical

Weight: 4.1 kg

Dimensions: w x h x d: 12 x 21 x 31 cm
Is the Niche Zero a good choice?
If you are considering the Niche Zero because you want to single dose, please read my thoughts on single dosing here

If you are considering it for its conical burrs, please read my thoughts on planar v conical burrs here

Don't forget to compare the build quality of the Niche Zero to other grinders

Don't overlook the "popcorning" issue mentioned in online reviews
It this the best coffee grinder for your home? Learn more and view our recommended coffee grinders by clicking here